I want an e-reader.


I think.

Again, this is just like
my strange attraction to the iPad
... I don't really want or need one,
but somehow I seem to want one anyway.


So, I'm headed off to Seattle to visit family, and for the plane ride coming and going (and for all those times in between, when my family does what they do best... all those teeth-grittingly great moments.) -- I was thinking of finding a new book to read.
And that's how
this
began.
I started thinking about all the reasons I should head over to Barnes & Noble and pick up a Nook, or why I should use my handy Amazon Prime account to overnight a shiny new Kindle to my doorstep.
I was weighing it all out, and have been leaning towards the Nook. Because it has a pretty color screen.
(Frankly, I never thought I'd be one of those people, but yes, apparently I judge based on color.)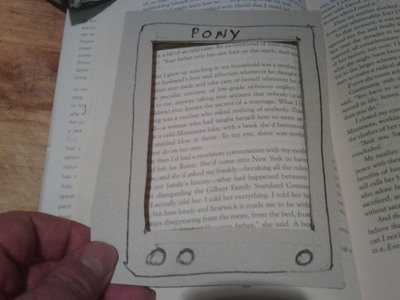 So, I emailed my friend
Suzy 101
, who recently got a Nook Color and is also a great resource for getting the 101 on just about anything. I emailed her a million and one questions that seem like the kinds of questions you might also have if you're also having eReaderEnvy. Hope this exchange is useful for you too.
hi suzy! ok, so a million and one questions for ya:

1) if i buy it today from the store, how long will it take me to set up and start using?

<<Suzy 101: Ok I LOVE mine. If you bought it today you could use it today. Just have to charge it for about an hour. >>
2) can i still buy ebooks from amazon?


<<Suzy 101: You can buy books from amazon if you download the kindle app onto the nook (my friend did that).>>

3) how much is a mag subscription?


<<Suzy 101: I don't subscribe to magazines but I heard they are expensive on nook and kindle.>>

4) how long does the charge last?


<<Suzy 101: A charge lasts a couple of days and charges very quickly.>>


5) if the ipad or tablet got cheaper in the coming year, would you still buy one, or if you have an ereader, is it overkill?
<<Suzy 101: I have the ipad too but I like this better for an e-reader.>>


6) will i like reading magazines on this thing? the notion of not "flipping through pages" seems so weird.


<<Suzy 101: I thought I might not like not flipping through pages. Now…I never want to read a real book again lol. I like this so much better.


7) what else can you do with it (not book/magazine related)


<<Suzy 101: You can also borrow books from the library on it.

8) how big is this thing?
9) if i try and carry this thing in my purse, is it safe, or will i def need a case too?


<<Suzy 101: You can carry it in your purse. I didn't get a case yet either. I will soon but just haven't gotten around to it.
OK, I'll keep you posted!